Concrete Construction Houston Texas
American Paving Is Your Concrete Construction Expert In Houston
Concrete is one of our most reliable and useful building materials, and it can be incorporated into an impressive variety of concrete structures. As durable as concrete is, it still takes an expert to handle properly. Without expert installation and maintenance, your concrete construction will fail much sooner than it should. As the property owner, you would unfortunately incur the cost of that mistake.
For decades, American Paving has provided Houston concrete construction services to a variety of commercial, industrial, and public sector property owners throughout Texas and Louisiana. We've earned the trust of our clients, and our concrete work speaks for itself. If you're looking for the maximum return on your concrete investment, the American Paving team can help.
We're Experienced In Building An Array Of Concrete Structures
Part of mastering concrete construction is versatility. Concrete can be shaped and installed for nearly any purpose, and an experienced concrete construction firm in Houston should be able to leverage this versatility. For example, we can build the following for your property:
Retaining walls – When building retaining walls, there is a lot to consider. The placement, size, shape, joint construction, and whether the retaining walls will be visually accented to any degree (painted or textured) need to be considered. Drainage is also important.
Prior to construction, our team will work with yours to determine the ideal retaining wall design.
Foundations – Concrete foundations come in a few forms, but in our area, slab-on-grade is the most common choice. Slab-on-grade foundations are ideal for warm climates, where ground freezing is rarely a concern. What is a concern with slab-on-grade foundations, though, is their potential to take on damage if the site is not properly graded. That's why you should choose a concrete construction team that also knows how to handle site preparation.
Curbs and gutters – Concrete curbs and gutters provide an ideal mix of durability and favorable hydraulic properties. Concrete withstands impact and exposure to water well, as long as it's properly waterproofed. It's also easy to markup concrete curbs for better visibility. However, concrete gutters will fail quickly if not poured and waterproofed correctly, so expertise is critical.
Sidewalks – Sidewalks, and especially commercial sidewalks, take a beating in terms of foot traffic. Concrete handles this punishment well with its superior compression resistance. Concrete is also weather and slip-resistant, which are both important for high traffic walkways. However, it is critical that the sidewalk is made with sturdy base materials and designed with sufficient drainage. Otherwise, water intrusion could cause early failure.
Patios – Patios aren't just for homes. On commercial properties, concrete patios are an excellent choice for outdoor seating areas and entrance walkways. Many patios are made with decorative concrete, which requires additional expertise to install correctly.
Flatwork and paving – Concrete flatwork is exactly what it sounds like – a flat concrete surface like pavement, sidewalks, and patios. It may sound simple to install, but flatwork only works if it's installed on level ground and if it's layered properly. That takes a site preparation expert to manage.
Decorative concrete – Concrete is almost as versatile visually as it is functionally. It can be marked, painted, and stamped with various patterns to enhance aesthetics or communicate information. Concrete slabs can even be stamped to look like individual pavers, which are prized for their appearance. It takes special equipment and an experienced eye to make decorative concrete look its best.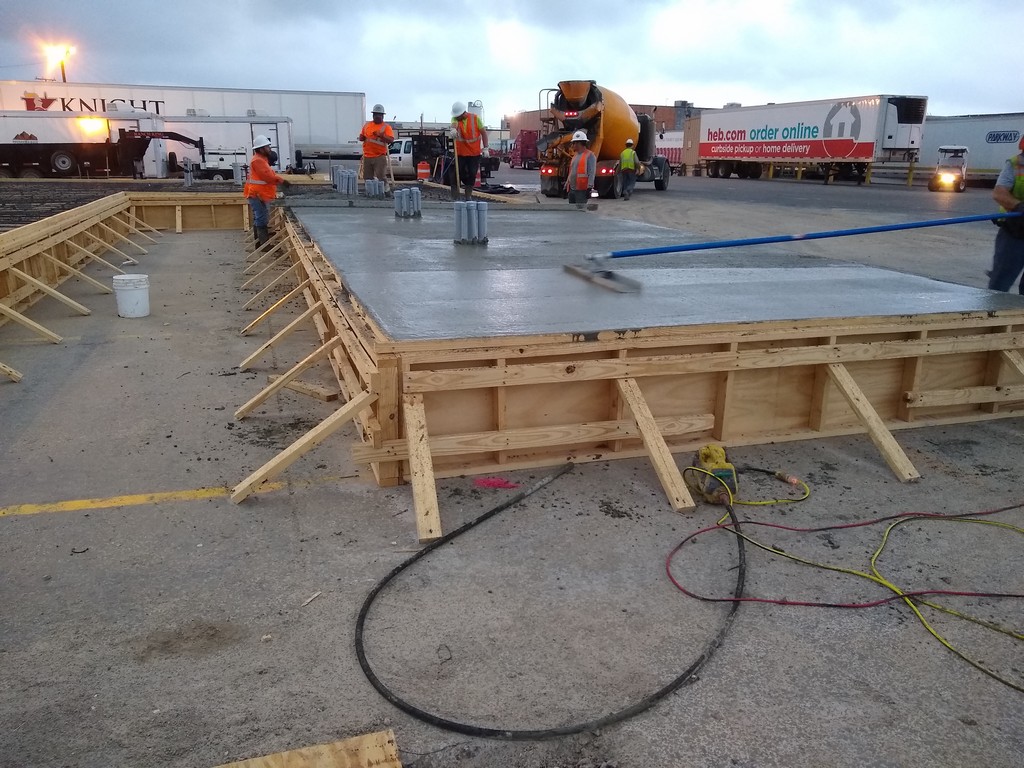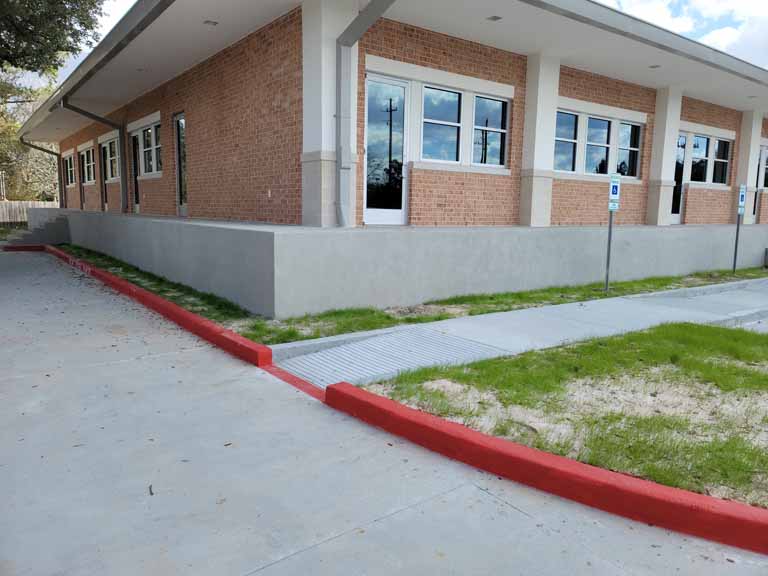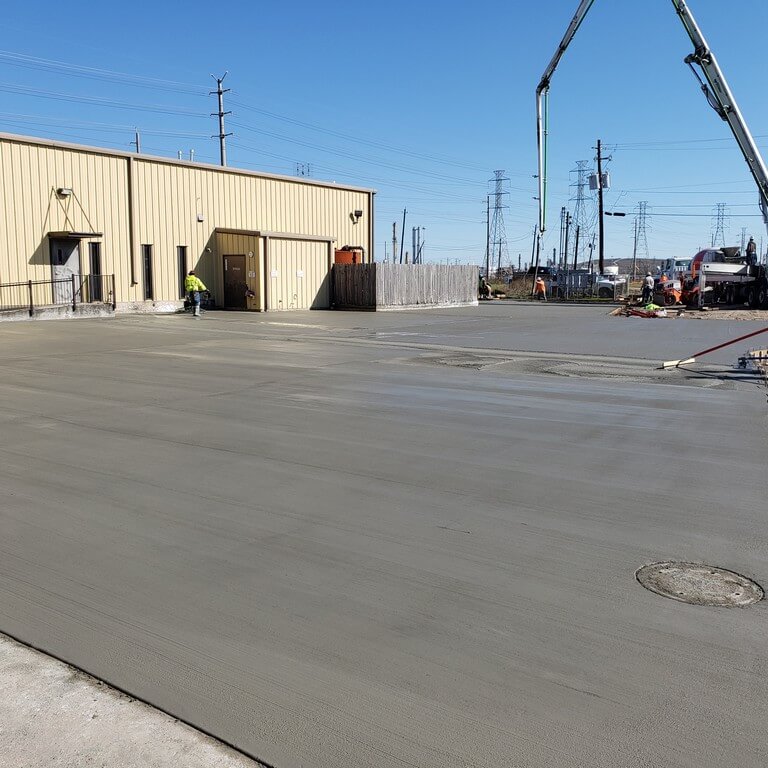 We're Also Experts In Concrete Road Construction
American Paving also has extensive experience in concrete road construction. We can build private roads for commercial and industrial facilities, or high traffic roads meant for public access. While many property owners opt for asphalt paving for their roads, concrete is also a popular choice. That is likely due to concrete's excellent durability, longevity, and low maintenance requirements.
Like with all forms of concrete construction, though, concrete roads perform best when installed by an experienced crew. Some considerations for a concrete road project include:
The thickness of the road pavement, which may be determined by the quality of subbase materials.
Proper compaction of the subbase to ensure stability.
The use of quality base material and aggregate. As the road's primary load-bearing layer, it's essential that the base be able to evenly distribute the weight of passing traffic. If properly installed, the road base may stay in good shape even after multiple resurfaces.
Ensuring that the surface layers are impervious to water, as water intrusion will quickly compromise pavement.
Also ensuring that the surface is laid with as smooth a finish as possible. This will optimize driving performance for motorists.
If you're not sure which services are right for your project, the American Paving team can inspect your asphalt and assess its condition. From there, we can recommend the best treatment plan for your asphalt pavement.
Is Your Concrete In Need Of Maintenance Or Repair?
Concrete is respected for its unmatched durability, but even it needs the occasional round of maintenance. The American Paving team offers maintenance and repair services, too, including:
Sawcutting – Concrete saws are capable of carving deep grooves into concrete slab, and they are used to remove patches of damaged concrete or cut joints into the slab. With sawcut joints, the slabs will be able to expand and shift with temperature changes without damaging the concrete.
Demolition – Eventually, a piece of concrete will need to be replaced. Whether worn by heavy traffic, weather or corrosion, damaged concrete should be removed as soon as possible to prevent hazards. The American Paving team can demolish concrete as well as we can install it, and if it's time to replace your concrete, we have the capability.
Slab replacement – Sometimes, compromised parts of a concrete slab can be cut and patched to extend the slab's life. Injected epoxy may also stabilize early signs of damage. When those options aren't on the table, though, the entire slab may need to be replaced. It's a heavy-duty job, but one that we specialize in.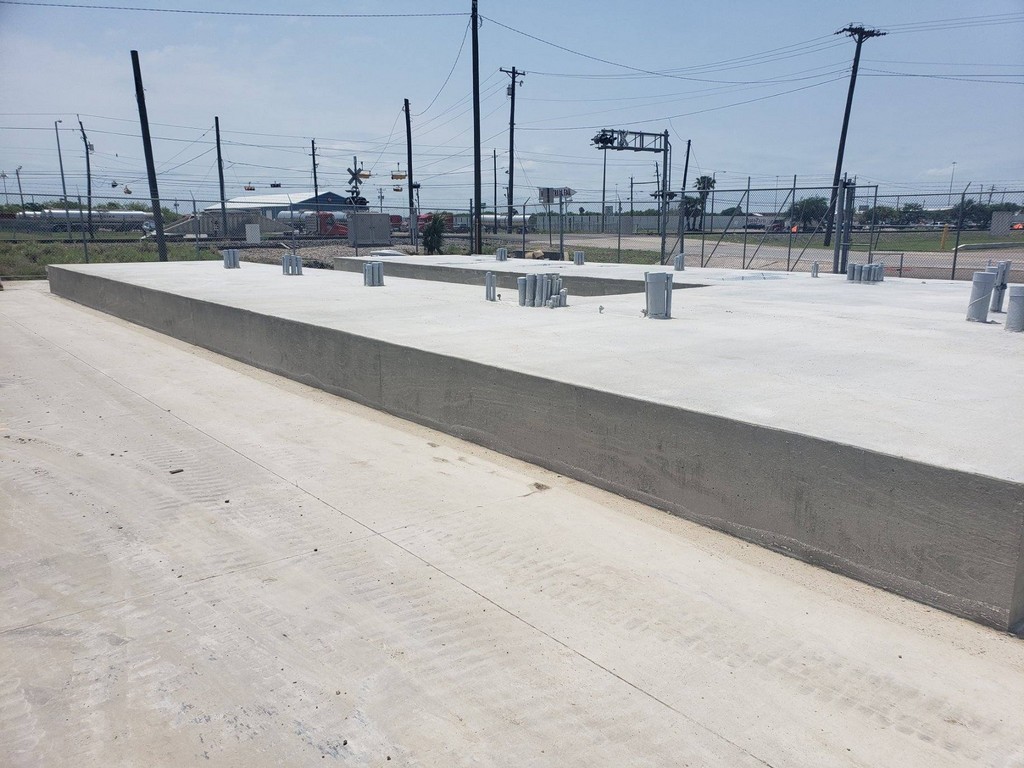 Why Do Property Owners Turn To American Paving For Their Concrete Construction Needs In Houston?
American Paving has provided commercial, industrial, and public sector clients with quality concrete construction for decades. We are proactive communicators, walking our clients through the construction process and ensuring both sides are in agreement over project details.
We are capable of steering concrete construction projects from planning to completion. We also provide site preparation services to ensure your concrete remains viable for decades.
It's this pride in our work and full-range capabilities that make American Paving the concrete construction choice for our clients.